Our Network of Health and Safety Professionals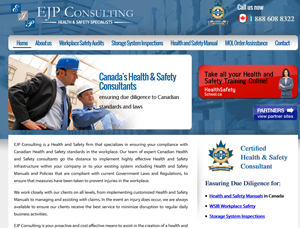 EJP Consulting
EJP Consulting is a Health and Safety Consulting Firm where our focus is on Industrial Health and Safety to prevent injury through means of regularly scheduled workplace inspections, as well as creating and implementing effective Health and Safety Policy to ensure workplace safety.
---
Health and Safety Trainers
With Over 10 years of experience and a team of qualified professionals from diverse fields Health and Safety Trainers offesr a "One Stop Shop" for all health and safety related training to ensure due diligence and compliance with government standards and laws.

Please visit their website for more information.
www.healthandsafetytrainers.ca
---
Hercules Installers
Hercules Installers are specialists in the installation, supply and fitting of all types of warehouse storage solutions including Pallet Racking, Steel Shelving, Mezzanines, and Security Partitions.
http://www.herculesinstallers.ca/
---
Canadian Society of Safety Engineering
The Canadian Society of Safety Engineering (CSSE) is the leading health, safety and environmental organization for professionals in Canada. We work with industry, governmental agencies, and other safety organizations to promote a greater awareness of health, safety, and environmental issues in workplaces and communities across the nation and around the world. Our vision is "An Advocate for Safety in Every Workplace."